Sermons & Media
Listen to Pastor Mike's most recent sermons below on audio.
All our sermons and announcement videos are now available
Pastor Mike's Bible Reading Plan:
Each day Pastor Mike starts off with prayer and reading the Bible. He uses a technique that keeps the reading fresh and only takes about thirty minutes to do. With this method, he successfully reads through the Bible three times a year!
This plan works bests if you use six bookmarks to hold your place and track your progress. Pastor Mike has made this easy to use Bible reading plan available below.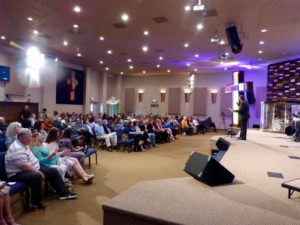 Every day read:
2 chapters starting in Genesis
1 chapter in Proverbs
2 chapters starting in Ecclesiastes
1 chapter starting in Matthew
1 chapter starting in Romans
2 chapters in Psalms
For any questions, please contact us at the
Nov 26, 2023

No Greater Love

Nov 19, 2023

The Purpose of the Wilderness

Nov 12, 2023

Coming Out of Wilderness

Nov 5, 2023

Pastor Leroy Baker

Oct 29, 2023

Spiritual Warfare

Oct 22, 2023

From Flight to Fight

Oct 15, 2023

Trading Up with God

Oct 8, 2023

Dealing with Anxiety

Oct 1, 2023

Going to the Topics

Sep 24, 2023

The Roadblock of Fear

Sep 17, 2023

Christ in you the hope of Glory!

Sep 10, 2023

Hold Fast!

Sep 3, 2023

What Brings God's Roadblocks

Aug 27, 2023

Removing Roadblocks

Aug 20, 2023

Saved and Delivered

Aug 13, 2023

Serving God in Power

Aug 6, 2023

Understanding Deliverance

Jul 30, 2023

Restoring the Cutting Edge: Being Full Oil

Jul 23, 2023

Restoring the Cutting Edge: Lessons From Three Churches

Jul 16, 2023

Restoring the Cutting Edge: Having a Blessed Family