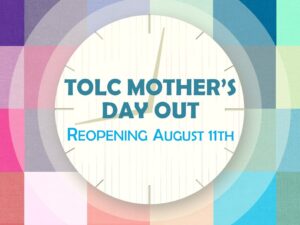 TOLC's Mother's Day Out Program
We're open! Our program is reopen and we have a few spots open in each class. Schedule a tour today!
Ages 1 – 5 years old ($220. per month & yearly $100.00 registration fee)
Our program runs year-round. Please register online by clicking the link below. In order to be registered the $100.00 fee must be paid and the form must be submitted either online or mailed in. (TOLC 16108 Yellowsage Pflugerville, Tx. 78660).
As of September 3 ,2020, this is our enrollment status for our begin date on August 11th.
* 1-2-year-old class- This class is full and accepting children on our waiting list.
*2-3- year-old class- This class has one opening.
*3-4-year- year-old class- This class has two openings.
*We are opening another -2-3 year old class in October. If you would like to be on that waiting list, please let us know.
Our Vision and Purpose
Tree of Life Church's Mother's Day Out offers a loving, safe, and secure atmosphere for children, and a caring, supportive ministry to parents and families in our community. Our age-appropriate curriculum is designed to stimulate young minds and to encourage the children to love and delight in our Savior, Jesus Christ.
MDO Director Kristen Sistrunk
For questions or more information please contact Kristen at 512-217-8030 or through email at admin@treeoflifeaustin.org
Tree of Life Church is located at 16108 Yellow Sage Pflugerville, Tx. 78660.
Drop-In Care Offered Depending on Availability
Drop-In Care services are available on Tuesdays and Thursdays with a 24 hour notice of care needed. Once you have registered your child, we are available to care for your child(ren) on an as needed basis. The drop-in care rate is a daily rate of $30.00 based on the slot your child will hold for that day, not the number of hours attended. We do not charge hourly for our services, however you may drop off or pick up your child when you need.
Classes at TOLC's MDO
Currently, we offer five classrooms. Our ratios are low and our teacher are wonderful! Each classroom is designed to encourage students to learn and socialize through play. Each week students are taught a letter, shape, color, and number. Our program teaches a new Bible story each week and focus on weekly theme. Some examples of weekly themes are Fall, my five senses, zoo animals, etc.
F
ollow us on Facebook and check out some of the funs things we do at MDO!-